Burma sanctions should be model for Cuba embargo
(Read article summary)
The byzantine Cuba embargo in many ways ties the US's hands, says guest blogger Anya Landau French, so maybe it's time to apply the Burma sanctions model – defend it or lose it – to Cuba.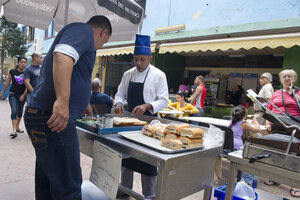 Alfredo Sosa/The Christian Science Monitor
As a Cuba policy analyst, I've given a surprising amount of thought to our policy toward the politically isolated, resource-rich nation of Burma (Myanmar) half a world away.
That's because I used to work for Senator Max Baucus, who in 2003, working with Senators Mitch McConnell, Dianne Feinstein, and Chuck Grassley, helped pass smart sanctions against the Burmese Regime. At the time, Congressional supporters of Aung San Suu Kyi wanted to punish the regime for its crackdown on Suu Kyi and her supporters, but Mr. Baucus and Mr. Grassley made sure that the sanctions would not be open-ended. With this new sanctions model, Congress would continue to exercise real oversight over the impact of the sanctions and of the Executive's efforts to bring other nations on board. (Here's what Baucus had to say when the sanctions were renewed in 2007.)
---
Follow Stories Like This
Get the Monitor stories you care about delivered to your inbox.