Venezuela nabs Colombian cartel leader Maximiliano Bonilla, a.k.a. 'Valenciano'
(Read article summary)
On the eve of a meeting of the Venezuelan and Colombian presidents, police seized Maximiliano Bonilla and plan to extradite him to the US, where there is a $5 million reward for his capture.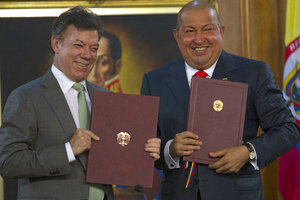 Ariana Cubillos/AP
Venezuela has captured one of Colombia's top drug traffickers, just as President Juan Manuel Santos visited his Venezuelan counterpart in Caracas, an arrest that may have profound implications for the Colombian underworld.
Maximiliano Bonilla, alias 'Valenciano,' was one of Colombia's most powerful and prolific drug traffickers, running a criminal empire in the city of Medellin and along the Caribbean Coast. He headed a series of criminal organizations, including factions of the 'Oficina de Envigado' in Medellin and the 'Paisas' along the coast, from their operating base in the city of Barranquilla.
It was not a coincidence that he was arrested on the eve of the meeting in Venezuela between Presidents Juan Manuel Santos and Hugo Chavez. An intelligence source told InSight Crime that the Colombian police intelligence, DIPOL, had been following members of Mr. Bonilla's family for two years, and had pinpointed his movements, feeding the information to the Venezuelan authorities to secure the arrest on Sunday night to highlight the increasing cooperation between the two nations. Despite having a security detail of 15 triggermen, all with Venezuelan IDs like himself, Bonilla came without a fight in the Venezuelan city of Maracay in Aragua state on the Caribbean Coast.
---