With much fanfare, Venezuela's first batch of repatriated gold comes home
(Read article summary)
President Hugo Chávez oversaw the return of the first batch of Venezuela's gold from foreign banks. Was it a publicity stunt?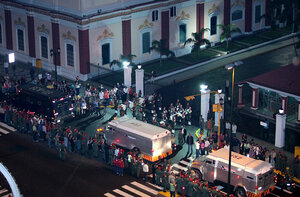 Miraflores Palace/Handout/Reuters
Many experts laughed off the plan, claiming it unfeasible and nothing more than a publicity stunt that would never materialize. Yet, just three months after announcing his intent to bring home Venezuela's international gold reserves and end the "dictatorship" of the US dollar, President Hugo Chávez has pulled off at least the initial portion of the feat, with trademark theater.
The first shipment of the precious metal landed at Caracas' Maiquetia International Airport late on Friday night to great fanfare. Pallets carrying the ingots traveled along the runway with an armed soldier on top of each. They were loaded onto armored vehicles and carried to Caracas as supporters celebrated in the streets.
Many analysts claimed the movement of such large quantities of gold – from some of the world's most secure vaults – was financially unviable thanks to the huge insurance premiums involved.
"The market in physical gold is tiny and largely comprised of nutcases," wrote Reuters blogger Felix Salmon, wondering how the Herculean feat could ever be pulled off. But Mr. Chávez frequently opts for the unconventional route and comes away unscathed.
Venezuelan authorities claim the shipment cost just $7 million, much less than analysts estimated. The authorities declined to give further information on where exactly the gold came from.
Most of Venezuela's foreign gold reserves were held in London, and Chávez formally requested the 99 tons of gold that Venezuela holds at the Bank of England back in August.
---