'Femicide' in Guatemala: Does the concept obscure more than it illuminates?
(Read article summary)
Guest blogger Mike Allison argues that when we talk about 'femicide' or the killing of women – a major concern in Guatemala – one should look beyond murder rates to victims' conditions.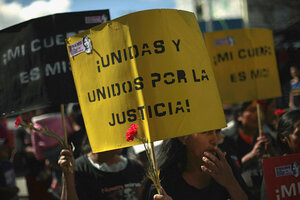 Jorge Dan Lopez/Reuters
Two thousand women marched through the streets of Guatemala City last week in support of the UN's International Day for the Elimination of Violence Against Women.
"Violence and impunity are still the major problems facing Guatemalan women. Violent deaths are not ending, and the crimes are more and more violent," activist Sandra Moran told AFP.
As I mentioned last week, "femicide," or the intentional killing of women, continues to be a major concern in Guatemala. Approximately 650 women have so far been killed this year and the country is on pace to record the same number of female murder victims as 2010.
Obviously, it's terrible anytime that a person is killed. However, it's important to keep a few things in mind when it comes to the murder rate of women in Guatemala. Most of the following statistics come from Carlos A. Mendoza's post on ¡NO MAS VIOLENCIA CONTRA LAS MUJERES!
---