Is it time for Obama to simply ask Cuba's President Castro to free Alan Gross?
(Read article summary)
US officials are proposing new measures to force Cuba to release USAID worker Alan Gross from prison, but guest blogger Anya Landau French suggests trying something different.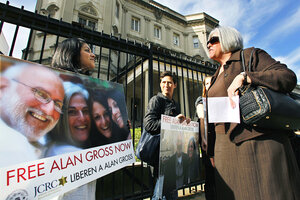 Manuel Balce Ceneta/AP
As the second anniversary of USAID sub-contractor Alan Gross's arrest in Cuba approaches, his family and representatives in Congress are stepping up efforts to win his release from prison. But which, if any, of their efforts will make the difference?
Rep. Chris Van Hollen (D) of Maryland says the door is "closed" to improved relations with Cuba so long as Mr. Gross remains in jail. It's a line to which Cuban officials are well accustomed over the last half a century of US-Cuban relations. And a Republican contender for the seat of Sen. Ben Cardin (D) of Maryland, Richard Douglas, has a laundry list of punitive measures the Obama administration and a more "resolute" senator should initiate to win Gross's freedom. Mr. Douglas thinks all flights and financial transactions between the US and Cuba should be halted, all Cuban visas should be revoked, even for UN diplomats (I'm not sure we can prevent Cuban diplomats from staffing their UN mission though), and the list goes on. Hit 'em where it hurts, he reasons.
---