Peruvians unhappy with Lori Berenson's holiday parole (video)
(Read article summary)
While Americans may sympathize with the plight of Lori Berenson, who returned to the US today on parole from her 20-year prison sentence in Peru, Peruvians still see her as a terrorist.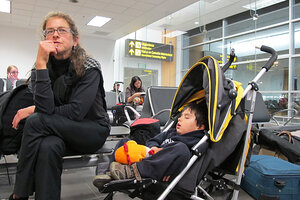 Frank Bajak/AP
The Christmas ordeal of Lori Berenson, the paroled American who spent 15 years in jail in Peru on charges that she aided Peruvian rebels, has ended, as she and her 2-year-old son landed in the Newark, N.J., airport for the holidays Tuesday morning.
It is the first time she has been on US soil in 16 years, and many in the US have sympathy for the woman whose image softened while she was behind bars. But in Peru, where many still view her as a terrorist, it is renewing examination of her role in the nation's violent history. Many argue that she shouldn't be given special treatment, and wonder whether she will even return by the deadline of Jan. 11.
Former presidential candidate Lourdes Flores Nano criticized the court decision that allowed Ms. Berenson to travel to the US for the holidays in the first place. Ms. Flores said to RPP Noticias that the treatment given to the American was "surprising and wrong."
Julio Galindo, the anti-terrorist attorney general, told the publication Peru21 that Berenson should not be able to leave the country because "the exit from the country of those convicted of terrorism is prohibited," the paper writes. He also warned that there was no guarantee that she would return.
---