If Venezuela joins the Mercosur economic bloc, will it follow the rules?
(Read article summary)
Venezuela could find its often renegade diplomacy reined in if and when it joins Mercosur. But the likely big winner would be Brazil.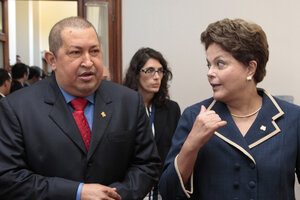 Reuters
Venezuelan President Hugo Chavez needs to wait a bit longer for his country's entry into Mercosur, the Common Market of the South founded in 1991 by Argentina, Brazil, Paraguay, and Uruguay. Though the group feels they found a procedural move to get around the opposition of Paraguay's legislature, the move will take additional time.
Much of the debate on Venezuela's potential entry to Mercosur has focused on shallow political questions about whether or not President Chavez should be admitted. Paraguay's opposition has used its legislative control to block approval of Venezuela's entry on the grounds that Chavez's Venezuela does not meet Mercosur's standards on democracy. Meanwhile, Chavez and his supporters have treated Venezuela's entry into Mercosur as an obvious step for South American integration.
For those who've forgotten, Mercosur actually has rules with an economic impact. It's not one of those nominal integration organizations in which a group of presidents hang out and talk once or twice per year and then is forgotten. Mercosur rules, though sometimes poorly enforced, have an impact on its members' trade agreements, customs, tariffs, monetary policies, and contractual law.
Let's go over some of the potential impacts that will occur if/when Venezuela joins Mercosur, some of which are just as important even if Chavez is no longer president a year from now.
---