Veracruz police disbanded: many in Mexico won't notice
(Read article summary)
The Mexican city's 1,100-member police force has just been fired, with the Navy put in charge of civilian security. Many in Veracruz won't miss the cops, whom they distrust.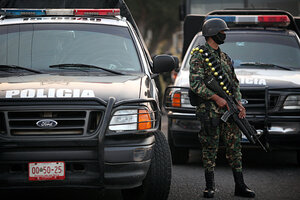 Felix Marquez/AP
Veracruz state has just announced it is disbanding the entire police force in the port city of Veracruz and is putting the Mexican Navy in charge of day-to-day police operations.
The move, says state spokeswoman Gina Dominguez, is part of an ongoing state and federal effort to clean up corrupt institutions. The lay-offs include 800 officers and 300 administrative staff.
In Mexico's bloody fight against organized crime, this is not the first time that local police forces have been replaced by the armed forces or federal police. Local authorities are often outgunned by traffickers, or worse, moonlighting for them.
Imagine an entire police force in a major US city being fired. A sense of chaos would ensue. But in Mexico, most will just shrug. Police here are widely distrusted, seen as part of the problem, not the solution. Instead of seeking their help in time of need, many run as far away as possible.
I was recently in Veracruz, writing a narrative of how one family's life is affected by drug violence. I asked the family: if something were to happen to you, a relative's kidnapping for example, would you call the police? They looked at me like I was joking: of course they wouldn't.
What would they do then? They might reach out to the Navy, if they could. But probably they would rely on their network of friends and family, seeking justice among themselves, trying to keep authorities out of the situation as much as possible.
"Why would I call the police? They are not going to resolve anything, and they probably will make the situation worse," Carolina Gomez, the protagonist of the piece, told me. "They won't solve the case, and then they will end up with all of my data, my name, my address, my telephone number."
I worry about cops, too
---