A year of drift in US-Latin American relations
(Read article summary)
This year should have been a stellar one for US-Latin American relations, marked by trade deals and Obama's high popularity in the region. Instead, 2011 held a sense of distance between the regions.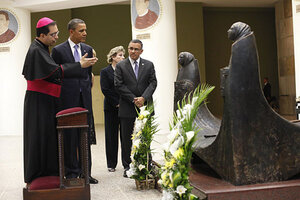 Pablo Martinez Monsivais/AP/File
In March, US President Barack Obama took his first trip to Latin America, stopping off in Brazil, Chile, and El Salvador. In October, the US approved long-awaited free trade deals with Panama and Colombia. According to the 2011 Latinobarometro poll, carried out across 18 countries in the region, President Obama ranked as the most popular leader in the Americas.
This year should have been a stellar one for US-Latin America relations, a major step forward after years of setback. But instead, despite the many positive developments, the relationship is characterized by, if not disdain, then definite distance.
"I think it's a curious moment," says Michael Shifter, president of the Inter-American Dialogue in Washington. "There is no evidence of great acrimony in US-Latin American relations as there was four or five years ago. But at the same time, there is this sense of distancing and drift, especially between the US and South America."
---
Follow Stories Like This
Get the Monitor stories you care about delivered to your inbox.