Brazil bumps Britain to become world's sixth largest economy
(Read article summary)
Thanks in part to soybeans and iron ore, cars, and coffee, Brazil has overtaken Britain as the world's sixth largest economy - though there are some clouds on the horizon.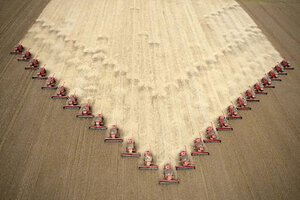 Paulo Whitaker/Reuters
Brazil's economy has surpassed that of Britain, this year becoming the globe's six largest, part of a slow but clear rebalancing of global economic power, the Guardian reports.
Douglas McWilliams, the head of the Center for Economics and Business Research (CEBR), which put out the analysis, told the British newspaper:
"Brazil has beaten the European countries at soccer for a long time, but beating them at economics is a new phenomenon. Our world economic league table shows how the economic map is changing, with Asian countries and commodity-producing economies climbing up the league while we in Europe fall back."
Brazil's booming economy has been Latin America's golden story for the past few years. Brazil is home to mega-companies Petrobras, Vale, and Embraer. It has turned into a commodities powerhouse. Coupled with its mining, manufacturing, and services sectors, Brazil is now the largest economy of the region.
It is a major exporter of soybeans and iron ore, cars, and coffee. It has increasingly expanded trade with China, now its largest exporting partner ahead of the US. Its macroeconomic stability – thanks to continuity across three presidencies in the past two decades, while focusing on the empowerment of the poor to diminish stubborn inequality – has contributed to a consumer spending frenzy among its 200 million inhabitants.
---