Dim forecast for security in Honduras in 2012
(Read article summary)
Despite Honduran efforts to promote police reform and check organized crime, the country has become a major transit point for cocaine, and the future of its democratic institutions looks bleak.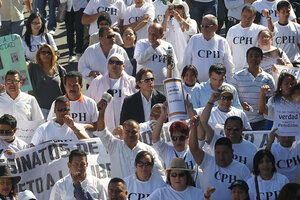 Danny Ramirez/Reuters
Every New Year's Eve, many Hondurans publicly burn "año viejo" figures made of papier maché and cardboard, which are commonly made to look like the evils of the past year. In an indication of just how much the population has been affected by the recent surge in crime, El Heraldo reports that this past Dec. 31 saw an unusually large number of organized crime-related figures being burned in the streets of Tegucigalpa. Because "año viejo" figures are often meant to convey some kind of commentary on current events, many of them resembled police officers, a reflection of the widespread corruption within the Honduran police force.
Unfortunately, this symbolic act was tempered by another, equally revealing sign of Honduras's deteriorating democracy. According to La Prensa, several of these figures were confiscated by police before they could be set ablaze. Despite a call by the director of the National Police for officers to respect citizens' right to free speech, many seized año viejo figures they deemed particularly offensive, telling their creators that they were an affront to the police force as an institution.
Such incidents are perfectly in keeping with the reputation of Honduran police. In addition to having been accused of cooperating with drug trafficking organizations in some cases, the Honduran National police claim to have "lost" thousands of confiscated weapons, many of which have ended up on the black market.
---