Brazil cleans house: now what?
(Read article summary)
Brazil's President Rousseff has had a good year in cracking down on corruption. Will the momentum last?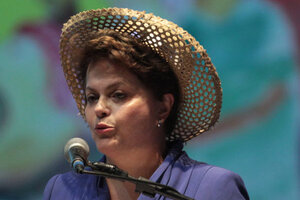 Eraldo Peres/AP/File
It's been a good year for Brazil's President Dilma Rousseff, exceeding the expectations of voters and even wowing some skeptics. With a record approval rating of over 70 percent, she exceeded Lula's approval rating after the first year of his presidency by more than 20 points. While there are a number of factors for her popularity, including a strong economy with low unemployment, and proving herself as an independent leader out of Lula's shadow, another important factor has been her crackdown on corruption.
During her first year in office, Dilma sacked six ministers after they came under fire for corruption charges. In the federal government as a whole, 564 public officials were fired for wrongdoing in 2011, though this number is not exactly new: in the past 8 years, over half of the 3,533 public officials who were fired from the federal government lost their jobs because of corruption. Comedy blog Kibe Loco produced a series of videos parodying Dilma's crackdown on corrupt ministers, where an actor dressed in drag would imitate phone calls to her ministers, in which she would yell, using all sorts of profane language, making the ministers cry, and then soothing them like a mother. Dilma's intolerance for corruption was welcomed by many Brazilians, particularly during a year where thousands took to the streets to protest corruption. Popular support to fight corruption also came after the Clean Record Law (Ficha Limpa law) was passed in 2010 after 2 million Brazilians signed petitions in favor of the law, which aimed to bar candidates accused of misdoing from taking office.
---