Honduras: home to the most violent city in the hemisphere?
(Read article summary)
Amid rising crime, the Peace Corps pulled out of in Honduras this week.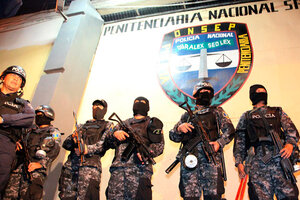 Reuters/File
Reports that San Pedro Sula, Honduras, has taken the place of Ciudad Juarez, Mexico, as the most violent city in the hemisphere are a result of shifts in trafficking patterns that are putting Central America at the heart of the drug trade.
According to a new report by Mexico's Civic Council on Public Security and Criminal Justice, San Pedro Sula saw 159 homicides per 100,000 residents last year, topping the nonprofit organization's list of the most violent cities in the hemisphere. Ciudad Juarez has topped the list for the past three years.
This shift in ranking reflects major changes that have occurred within the regional drug trade over the past decade, in which Mexican drug traffickers have deepened their influence in Central America. There they have established connections to local crime bosses, known as "transportistas," who facilitate drug shipments between South America and Mexico. The rise of these transportistas has been accompanied by a surge of violence in the region, which is exacerbated by a growing local market for drugs, weak state institutions, and government corruption.
---