Guatemalans scale volcano to protest domestic violence
(Read article summary)
Violence against women has surged in Central America, prompting awareness efforts like the one in Guatemala this weekend.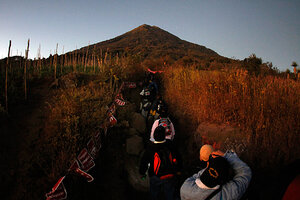 Jorge Dan Lopez/Reuters
Thousands of people, one after the other, climbed to the top of a dormant volcano in Guatemala over the weekend, ascending the 12,352-foot slope of the Volcan de Agua (Volcano of Water).
They weren't on an adventure excursion though. It was a mega protest against domestic violence, which included 12,000 women, children, and men (including Guatemala's new president Otto Perez Molina).
Look at the photos here.
Violence has dogged Central America, and while it is gang killings and drug trafficking violence that dominates headlines, violence against women is rising.
The march in Guatemala is one of several actions organized by human rights defenders in recent years. We reported about a creative effort in Suchito, a colonial town outside of San Salvador, where centuries-old whitewashed homes were adorned with permanent wording that read: "In this house we want a life without violence towards women."
The stencils, including a bird and flower, are the work of the Feminist Collective for Local Development to "elevate societal rejection of domestic violence, and make it a subject we should all be worried about," local feminist activist Morena Herrera told me.
And this week the Nobel Women's Initiative, begun by women laureates in 2006, is in Mexico, and heading to Honduras and Guatemala, from Jan. 22 to the 31, to talk to defenders of human rights for women, and to focus on the unsolved killing of women in the region.
---