Rio building collapse: where is the oversight?
(Read article summary)
In the past year Rio has seen exploding manhole covers and numerous transit accidents. It might be time to rethink the city's antiquated building codes, says guest blogger Julia Michaels.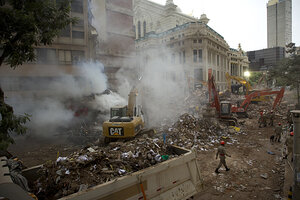 Victor R. Caivano/AP
• A version of this post ran on the author's blog, Riorealblog.com. The views expressed are the author's own.
When an illegal gas canister exploded one morning last October at the downtown Filé Carioca restaurant, killing four and bringing down much of the building it was housed in, residents of Rio de Janeiro discovered just how spotty safety inspections are.
"The firemen aren't equipped to inspect every building," fire chief Sérgio Simões told the Rio newspaper O Dia. "We inspect in response to reports of irregularities".
After that tragedy, the mayor and the fire department promised to do a better job.
This week a twenty-story building, also downtown, collapsed onto two other buildings, destroying all three. Six bodies have been recovered and 24 people are missing. So far, it appears that unreported renovations may have destabilized the tallest building according to Brazilian newspaper Terra (in Portuguese).
Social media chatter has brought to light a shocking truth: in Rio de Janeiro (and perhaps all of Brazil?), renovations are the full responsibility of the project engineer and the building owner. No government inspections are carried out – except for when the building first goes up.
---