Bash America? The Castros play to their base in Cuba
(Read article summary)
Cuba's Raul Castro attacked imperialism at last weekend's Communist Party conference, while Fidel Castro earlier criticized US Republican candidates.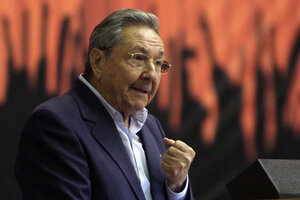 Ismael Francisco/Prensa Latina/AP
There is no shortage when it comes to critics of US policy on Cuba, with former Cuban leader Fidel Castro sounding the loudest reproach.
Last week in the state-run press he denounced the Republican Party's contest for a nominee, calling it a race of "idiocy and ignorance."
"The selection of a Republican candidate for president of that globalized and encompassing empire is - I say this seriously - the greatest competition of idiocy and ignorance that has ever been heard," he wrote.
Many Americans agree that the candidates are out of touch with reality in Cuba. As guest blogger Anya Landau French wrote in The Havana Note last week, after debates in Tampa, the candidates were "all singing the same broken record," many taking a hard-line approach to appeal to exiles in Florida.
Newt Gingrich said he would try "aggressively to overthrow the [Castro] regime" with covert actions.
Only one candidate, Ms. Landau French notes, sounded something different: "We're living in the dark ages when we can't even talk to the Cuban people," said Ron Paul.
---