Another casualty of Brazil's rise: cheap airfare
(Read article summary)
The founder of Gol, a Brazilian airline that once set out to topple high-cost air travel, is now facing questions on his company's exorbitantly high prices.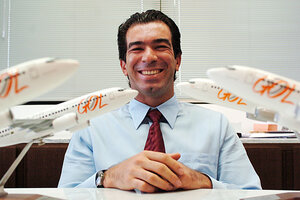 Alexandre Meneghini/AP/File
• A version of this post ran on regular contributor Andrew Downie's blog, andrewdownie.wordpress.com. The views expressed are the author's own.
When I interviewed the head of Gol Airlines for the Monitor in 2005, I was hugely impressed by his ethos of wanting to create a low cost, low fare airline for Brazil and take on the legacy carriers whose model he so disliked.
Constantino de Oliveira Jr. did exactly what he set out to do and his cut-price but high quality service – combined with an economic boom that brought millions of consumers into the Brazilian market – helped Gol bankrupt Varig, the country's flagship carrier. Today, Gol vies with Tam for the position as Brazil's No.1 airline.
RELATED: Think you know Latin America? Take our geography quiz.
The problem is that somewhere along the line de Oliveira Jr. dumped all that progressive talk of creating an alternative airline for the discerning and less well-off traveler and turned Gol into the kind of airline he was so keen to replace.
Gol now charges prices that are ridiculously high even for Brazil, a country that is now among the most expensive in the world.
---