No credit, no problem: Nicaragua's Ortega pitches 'socialist' bank
(Read article summary)
Ortega says the Bank of ALBA will give loans to members without conditions to pay for development or social projects.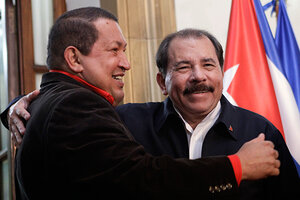 Ariana Cubillos/AP
• A version of this story ran on the author's site, nicaraguadispatch.com. The views expressed are the author's own.
Bad credit? No credit? No problem!
President Daniel Ortega is putting on his banker's visor and taking time off from denouncing the evils of savage capitalism to try to raise startup capital for the newly announced Bank of the Bolivarian Alliance of the Americas (ALBA), or BALBA.
The president-turned banking booster told citizens last night that he'd feel a lot better if Nicaragua took some of its $1.7 billion in international reserves out of established banks around the world and put it the trusted care of BALBA, which is almost one week old.
The birth of BALBA was celebrated in Venezuela last weekend during a summit of ALBA nations, a leftist trade bloc founded in 2004 by Cuba and Venezuela as an alternative to US free-trade agreements. The idea behind BALBA is that each member country - Venezuela, Cuba, Nicaragua, Ecuador, Bolivia, Dominica, Antigua and Barbuda, and Saint Vincent and the Grenadines - support the bank to the tune of what each economy can afford.
In Nicaragua's case, the country is expected to cough up 1 percent of its international reserves, whose purse strings are controlled exclusively by the autonomous Central Bank. Ortega is also asking the Sandinista-controlled National Assembly to pony up $4 million for the ALBA bank.
---