Venezuela's opposition unites around Capriles. Can he beat Chavez?
(Read article summary)
A record turnout of nearly 3 million people voted in Venezuela's opposition presidential primary yesterday, selecting Henrique Capriles Radonski as the candidate.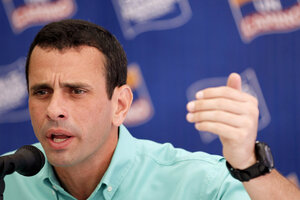 Jorge Silva/REUTERS
The results of Venezuela's opposition-party presidential primary, the first of its kind, was no great surprise. Youthful state governor Henrique Capriles Radonski was ahead in the polls, and won by a landslide with about two thirds of all votes.
What was surprising, however, was how many Venezuelans showed up to vote – almost 3 million people, or about one-fifth of the electorate, reports Venezuelan guest blogger Miguel Octavio. (Mr. Octavio also ran a series of photos on of Venezuelans voting abroad, from Miami to Milan, Austria to Australia.)
Mr. Capriles said last week that he hoped for at least two million voters. This larger-than-expected turnout buoys his bid to unseat President Hugo Chavez in the Oct. 7 presidential elections.
The turnout is a sign that the historically divided opposition – which boycotted legislative elections in 2005, leaving President Chavez with vast powers – has finally come together in an effort to unseat 13 years of Chavez-style socialism in the country.
"Today, the future of Venezuela won and, as we said, we repeat to everyone: there is a path, there is a path for progress, for the future, to make Venezuela a greater country," Capriles said upon his victory last night.
Many analysts say Chavez is as vulnerable as ever. He has been in office since 1999, which means he is blamed (largely by the upper and middle classes) for many of the country's most intractable problems: high crime, inflation, and spending on social welfare programs to woo voters, while ignoring the fundamental economic problems in the country.
---