Brazil police strike ends in Rio, Carnival saved
(Read article summary)
The police strike that threatened Carnival, one of the world's most festive parties, shows how labor movements are gaining the upper hand in Brazil for the first time in history, says guest blogger.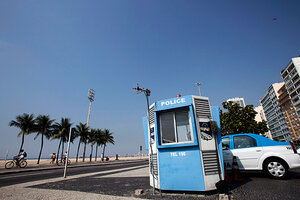 Sergio Moraes/Reuters
• A version of this post ran on the author's blog, riorealblog.com. The views expressed are the author's own.
Rio police voted yesterday to end their short-lived strike (in Portuguese), and focus on freeing 27 members of the force arrested for striking. A day earlier their Bahian colleagues did the same.
Though the imminent approach of Carnival served to pressure the state government into pay increases for security forces, the holiday may also have taken the wind out of the striking police's sails. With blocos, or Carnival street bands, already in the streets and popular focus shifting to fun (with concern over the safety and spending of Carnival-goers, both locals and tourists), the strikers found little support for additional demands.
But the strikes raised important questions about ongoing class inequality in Brazil, and the Latin American region as a whole. Latin American history could easily be written as the story of how the elite have managed the needs and wants of the poor. Over time the identity of the elite has changed, with some socioeconomic mobility occurring, but the dynamic has largely remained the same.
Slavery was abolished late in Brazil, only in 1888, with no provision made for the newly-freed. In the 1940s and 1950s, Brazil's strongman Getúlio Vargas coopted labor movements to keep them under his thumb, setting up a system that largely persists to this day– strangling efforts to make the Brazilian economy more agile and dynamic. In the same spirit, in 1962 Brazil instituted a paternalistic thirteenth salary, awarded to workers at year-end with the tacit idea that they are incapable of planning ahead for holiday spending.
---