Honduras prison fire kills more than 300, highlights regional problem (+video)
(Read article summary)
This is the third fatal Honduras prison fire since 2003. The region as a whole lags on fire prevention measures and oversight.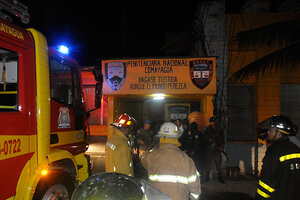 Fernando Antonio/AP
A fire in a prison in Honduras killed at least 350 people late Tuesday night, authorities report.
It is still unclear how the fire, which broke out in the town of Comayagua, 90 miles north of the Honduran capital Tegucigalpa, started. Two theories posited so far include an intentional blaze set by inmates or an electrical short circuit.
The Associated Press reports that the prison held 800 prisoners, and well over a third were killed. A fire department spokesman told the wire service that at least 100 of the men died because they were unable to get out of their cells: the guard with the key could not be located.
Despite the uncertainty surrounding how the fire began, what is increasingly clear is that the region is regularly plagued by fatal fires that spread quickly, often due to building regulation violations, lax oversight, and poor contingency plans. While clear codes often exist, countries don't always have the capacity to enforce them and too often corrupt inspectors accept bribes instead of closing down illegal establishments.
This is Honduras' third deadly prison fire since 2003, but fatal fires have claimed victims in various venues throughout the Americas in recent years, and often share characteristics such as overcrowding or lack of operational licenses.
Yesterday's fire follows a blaze in a rehabilitation center last month in Lima, Peru, where 27 people were killed after being trapped by flames. Authorities said the center, called "Christ is Love," was not licensed and was overcrowded.
Residents were kept inside the rehab center "like prisoners," Peru's health minister Alberto Tejada told the AP.
---