Honduras fire reflects dire state of prisons in Latin America
(Read article summary)
Honduras is among the worst in the region with severe overcrowding, but Latin American prisons are a daily human rights tragedy, writes guest blogger James Bosworth.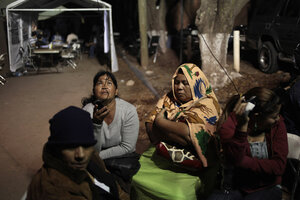 Jorge Dan Lopez/REUTERS
• A version of this post ran on the author's blog, bloggingsbyboz.com. The views expressed are the author's own.
It's unfortunate that it takes a prison fire killing more than 300 people to raise awareness of the problems with Latin America's prison systems. Beyond this one terrible event, the general state of this hemisphere's prisons are a daily human rights tragedy. Honduras is among the worst of the region, with serious overcrowding, under-trained staff, and conditions that you would not want to experience for even an hour, much less years on end.
The broken prison system is part of the larger violent crime problem in Latin America. The region has incredibly high rates of impunity, with less than 10 percent of murders being solved in many countries. But even for those tried, convicted, and sentenced, they go to prisons that don't function. In many cases, criminals run operations out of the prisons and exercise significant control within. Rehabilitation programs are largely unsuccessful. Prisons end up serving as training and recruiting grounds for gangs and criminal organizations, exacerbating rather than solving problems.
Given the reports about the criminals within the penitentiary systems, there is a sector of Latin American society that reacts to reports about events like the fire with a "Good, criminals deserve it" mentality. Not only is that sad at a basic human rights level, but it's wrong in terms of democratic values. Many of the region's prisons contain people who are in pre-trial detention and/or were not tried, convicted and sentenced in a fair manner. When I was in Guatemala last week, a government official admitted that there may be as many as 6,000 people in their prison system who have not been officially tried or sentenced, something he called a "human rights violation" that the Perez government intends to fix by increasing the capacity of the institutions to work their way through the cases.
---