Why some Rio residents yearn for an iron-fisted druglord
(Read article summary)
After the police occupation of a large Rio de Janeiro favela last year, there is a new spike in crime, the result of poor police coordination, says guest blogger Julia Michaels.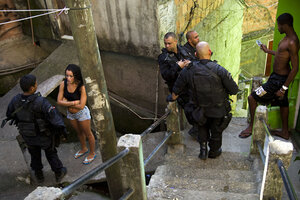 Victor R. Caivano/AP
• A version of this post ran on the author's blog, riorealblog.com. The views expressed are the author's own.
The day after Rocinha's police occupation last November, O Globo newspaper announced to the world on its front page that Rocinha é nossa, Rocinha is ours. However, it seems that several other groups are contesting ownership of the South Zone's largest and most visible favela, or slum, with an estimated population of 200,000.
According to press reports, two drug gangs are fighting over the territory, up for grabs since druglord Nem was arrested while hiding in the trunk of a car, also last November. That's the explanation for most of the eight murders that have taken place since occupation. Robberies are also on the rise. Such crime hasn't been seen in other pacified favelas, though there have been problems with police corruption and community relations.
Rocinha doesn't yet have a UPP, or police pacification unit. Each of the city's nineteen units have been installed only after a territory is fully in control of the Rio police – certainly not the case here. Given the crime spike, some residents yearn for the return of an iron-fisted druglord.
Yet the state government is far from allowing a return to the past. This week State Public Safety Secretary José Mariano Beltrame announced that 130 new recruits will intern in Rocinha, bringing more manpower to an additional 40-man contingent and swelling the total force there to 350. Most are meant to carry out foot patrols in the favela's alleyways.
---