Report: US should minimize military aid to Central America, strengthen courts, police
(Read article summary)
A new Council on Foreign Relations report examines criminal violence in Central America.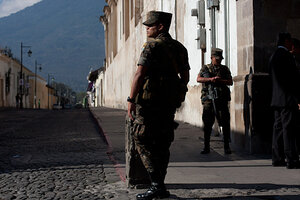 Moises Castillo/AP
• A version of this post ran on the author's site, Insightcrime.com. The views expressed are the author's own.
The US should focus its anti-crime strategy in Central America on strengthening the court system and the police force, rather than military aid and drug interdiction, according to recommendations by US think-tank the Council on Foreign Relations.
In a new report which examines criminal violence in Central America, author Michael Shifter argues that the State Department's Bureau of Narcotics and Law Enforcement Affairs should assign two-thirds of its projected budget (some $36.7 million) to the strengthening of institutions in the region. Even though some presidents in Central America may be demanding more military aid from the US in order to buy equipment and upgrade their anti-drug technology, the US should be cautious of military assistance and only offer it "under the strictest of conditions."
But shifting money around will not be enough to confront the problem, the report states, and goes on to recommend that the US double its total funding commitment to Central America. These new funds should be used to increase training and provide resources for judges, prosecutors and witness protection programs, rather than funding military and anti-drug agencies.
---