How 'socially inclusive' is Latin America? New indicator ranks countries.
(Read article summary)
In lead up to Summit of the Americas, a new indicator measures 'social inclusion' based on variables like access to education and jobs in 11 Latin American countries.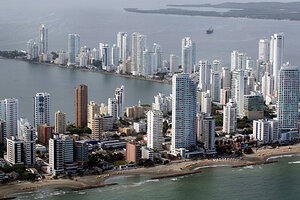 Fernando Vergara/AP
For the past decade, Latin American politicians have centered their campaigns and policies on inclusiveness. Starting with Hugo Chavez in Venezuela, hardly any leader can seek office today – whether they're on the left, right, or smack in the center – without promising to be an advocate for the marginalized and the poor.
But with new political empowerment for the poor, expanded social programs, and continued promises of inclusion: Are people in Latin America better off today?
There are poverty and inequality statistics to measure this, but they only tell part of the story. A new indicator unveiled by the policy journal Americas Quarterly seeks to provide a fuller answer to that question by measuring "social inclusion" across 15 variables in 11 countries. The social inclusion measurement looks not just at jobs and access to goods and education, but also considers perceptions of political freedom and government efficacy.
Unfortunately Venezuela is not included in the report (nor is Argentina) because of the availability of quality data. But some of Venezuela's allies, like Bolivia and Ecuador, are listed. While these two countries fall in the middle of the pack for the cumulative ranking of overall "social inclusion," when it comes to specific variables there are some interesting findings.
---