Makeover for Rio's favelas: What is at stake?
(Read article summary)
One of every five residents in Rio de Janeiro lives in a favela, and faces public security and health threats. But the city's plan to improve slums has been met with distrust, writes a guest blogger.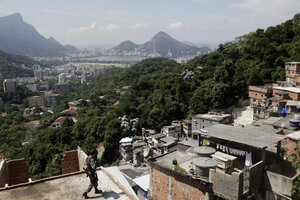 Ricardo Moraes/Reuters
• A version of this post ran on the author's blog, riorealblog. The views expressed are the author's own.
Has anyone calculated the total number of people who have ever lived their whole lives in a favela? Since the first one, here in Rio, on the Morro da Favela, occupied in 1897? It's surely more than six million [...L]iving under constant threat to one's health, physical safety, mental balance, etc.
[W]e are talking about generations of people who lived in ghettos. People long on the margin, limited in their capacity to fulfill their human potential.
Today, one in five cariocas [a reference to people who live in Rio] lives in a favela, or slum.
This is why we had two big pieces of news this week. First, Governor Sérgio Cabral announced plans to spend $100 million ($70 million of which come from an International Development Bank loan) to serve 40,000 young people in pacified favelas by 2016.
According to the O Globo newspaper, "the work includes psychological services, job orientation and help for young people returning to school... The idea is to create spaces for youth, to fund groups that will track residents aged 15 to 19.″
---