Lost in translation: English in Brazil
(Read article summary)
Brazil is considered a 'low English proficiency' country, and ranks among the lowest in the world for workplace fluency, putting the emerging economy at a disadvantage, writes a guest blogger.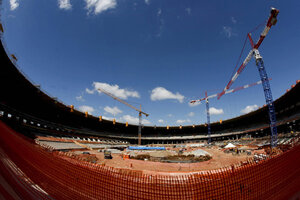 Washington Alves/REUTERS
• A version of this post ran on the author's blog, Riogringa.com. The views expressed are the author's own.
One of the main challenges leading up to Brazil's mega-events – including the Rio+20, the World Cup, and the Olympics – is a shortage of English speakers in key sectors, including tourism, transportation, and hospitality. For those who spend lots of time in Brazil and speak Portuguese or hope to become fluent, this is actually an advantage, which can allow for more immersion. But for one-time visitors or those dependent on English as their only language or the only other way to communicate outside of their native language (such as Chinese, Russian, etc), it can prove to be a problem.
On global English rankings, Brazil does not fare well. EF, a global English education company, released its international English proficiency index for 2011, showing that Brazil ranked as a country with "low English proficiency." Though it was among the lowest ranking countries, Brazil scored above the "very low proficiency" countries such as Panama and Vietnam. Released in April, the GlobalEnglish Corporation Business English Index ranked Brazil among the lowest in the world among countries with the least amount of English fluency in the workplace, which puts the country "at a disadvantage." An Economist Intelligence Unit report released this month indicated that Brazil is one of the countries that struggles the most with the language barrier in international business; nearly three-quarters of Brazilians surveyed said their company had experienced "financial losses as a result of failed cross-border transactions."
---