Mexico's presidential debate: Candidates faced easy questions as protesters filled streets
(Read article summary)
Candidates largely avoided attacking front-runner Enrique Peña Nieto in last night's final presidential debate, but the tens of thousands of students protesting his party beforehand did not.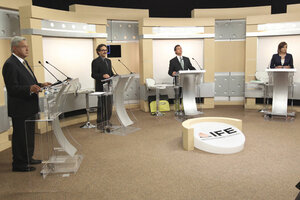 Instituto Federal Electoral/REUTERS
Back in May, during the first debate ahead of Mexico's July 1 presidential election, the clear frontrunner took the brunt of the attacks.
During Sunday night's second and final presidential debate, Enrique Peña Nieto of the Institutional Revolutionary Party (PRI), who has been ahead in the polls since the race began, didn't have to dodge a lot of bullets. He wasn't attacked any more than the three other candidates.
In fact, his top rival, leftist Andres Manuel Lopez Obrador, known as AMLO, barely criticized Mr. Peña Nieto, or anyone else. Meanwhile his rival on the right, Josefina Vazquez Mota, spent her time attacking everyone equally, including the candidate on the fringes of the race, Gabriel Quadri, who has only about 2 percent of votes.
It was almost as if the debate's goal was not about trying to knock Peña Nieto from the top, but secure the second place slot. And so it is likely that Sunday night alone will do little to steer supporters away from Peña Nieto, point undecided voters in a clear direction, or shuffle up the statistics in any significant way. "A statistical tie," analysts declared during after-debate television programs.
The main criticism that Peña Nieto has had to contend with throughout the race is his party's past, as the authoritarian party that ruled Mexico for 71 years before finally getting edged out by Ms. Vazquez Mota's National Action Party (PAN). The theme surfaced again Sunday night – broached particularly by Vazquez Mota.
---