Rio+20: Brazil's big test
(Read article summary)
Rio+20 kicks into gear June 20 with the arrival of about 100 heads of state. 'As usual,' writes a guest blogger, everything is coming together last minute for the 50,000-plus visitors to Rio.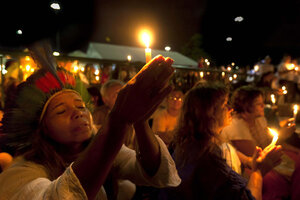 Ana Carolina Fernandes/REUTERS
• A version of this post ran on the author's blog, Riogringa. The views expressed are the author's own.
Rio+20 [began last week, with the main event kicking off on June 20], and as usual, everything is coming together at the last minute. With 50,000 visitors and around 100 heads of state expected, the city's preparations are being finalized. It's a good sign, since the massive event is going to serve as a practice run for upcoming mega-events like the Confederations Cup, the World Cup, and the Olympics.
The city government is taking preventative measures to try to reduce the city's notorious traffic, which is especially heavy in Barra, where the main part of the conference is taking place. The mayor declared a school holiday for all levels, from pre-K to universities, as well as a partial public worker holiday. and special traffic measures are being put into place. A lane on the Linha Vermelha highway will have an exclusive lane for heads of state, and Avenida Niemeyer – a narrow, seaside road which connects Barra to the South Zone – will operate in a single direction during peak hours from the 20th to 22nd. There will be special buses running to transport visitors to and from the conference, including "green" buses.
---