Indigenous Venezuelans demand return of rock from Germany
(Read article summary)
The 35-ton Kueka stone is claimed by some Pemón as a spiritual "grandmother" that belongs in Venezuela, not a Berlin park.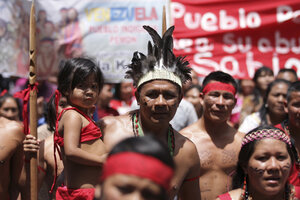 Christian Veron/REUTERS
As climate activists protest against inaction at the United Nations Rio+20 summit in Brazil and members of the 99 percent call for change at financial centers around the world, the Pemón people of Venezuela made their own demonstration outside the German embassy in Caracas yesterday.
More than 100 indigenous Venezuelans – the women clad in traditional colorful dress and men in loincloths, some wielding decorative spears – marched in the wealthy La Castellana district of the city to demand the return of a sacred, 35-ton rock that currently sits in a Berlin park. The demonstrators blocked the sidewalk and entrance to the building, which also houses the British and Portuguese embassies, chanting, "Return the stone!" Many police were present, though the protests were not violent.
The Kueka stone is claimed by some of the Pemón as a spiritual "grandmother" that belongs in the country's deep interior: the setting, some say, of Arthur Conan Doyle's book, The Lost World, a secret and magical region where dinosaurs roam free. The protestors said they traveled overnight from la Gran Sabana to Caracas.
Juxtaposing the ancient aura of the indigenous protest in Caracas were a string of government buses lining the road nearby and officials from the government's press wing collecting the names of journalists and photographers covering the event.
---