Rio +20: What does it augur for the 2016 Olympics?
(Read article summary)
The UN's global conference underscored just how much ground Rio de Janeiro itself has to cover when it comes to environmental sustainability. It also showed what a long way the city has to go to prepare for the 2014 World Cup games and the 2016 Olympics.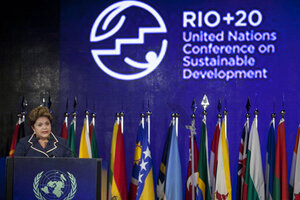 Andre Penner/AP
• A version of this post ran on the author's blog, riorealblog.com. The views expressed are the author's own.
Rio +20 and Rio, like Carnival with less trash. And less music, and more traffic, and what seemed like the entire Brazilian Navy sailing up and down the coast. There were also no costumes, unless you count people like the Brazilian Indian in full regalia who aimed a bow and arrow at BNDES security personnel …
Actually the only way the UN Conference on Sustainable Development was like Carnival, is that Rio de Janeiro was invaded by visitors, anywhere from 50,000 to 75,000 people. In the South Zone, everywhere you turned there was someone with a dangling identity card.
The traffic jams occurred not because blocos of people were dancing and drinking in the streets, but because of demonstrations, and the hordes of unsustainable vehicles hogging the road. Escorted by sirening motorcycle cops and hovering helicopters, dignitaries from 190 countries came from and went to the Riocentro convention center in the West Zone in exact opposition to the times and directions of the carioca rush hour. To ease the way, city hall suspended the normal morning lane reversals, gave students three days off from class, shut down municipal agencies, and told people to either stay home or use public transportation.
Many visitors criticized the lack of organization and poor service they encountered. Thousands slept in makeshift camps at the Sambadrome and in a park, because Rio didn't have enough hotel rooms. A Japanese delegation on the way to a sewage treatment plant took a wrong turn and came face to face with armed men in a Caju favela.
---