Women make splash in Mexico's elections
(Read article summary)
Mexico is facing a milestone for women as it fields its first female candidate from a major party in the July 1 presidential election. But women are vying to make an impact in local elections as well.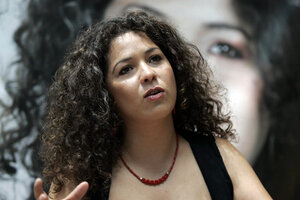 Alejandro Acosta/REUTERS/File
Mexico may be fielding its first female candidate from a major party for president, a milestone for women in politics here, but there is just as much buzz for female candidates at the local level.
In the conservative city of Guadalajara, one candidate even opted to go topless to get attention for her bid to congress. Even though she's been criticized for objectifying women, she sees it differently. "We had to do something that would have an impact," says Natalia Juárez of the leftist Party of the Democratic Revolution (PRD), as campaigning wrapped up before Sunday's race. Mexicans will vote this weekend for a new president, governors in a handful of states, and a whole new congress.
Ms. Juárez raised eyebrows recently when she disseminated provocative photos during her campaign. The first, a billboard image of the candidate and six other women nude from the waist up, their left hands covering breasts, brought widespread attention. Similarly controversial images followed.
For some women it showed she would be an honest politician, with nothing to hide. But not all of the reaction was positive. Critics from around the world accused her of objectifying women for political gain. But Juárez, a philosophy professor at the University of Guadalajara, shrugs off criticism. Her intention was to fight prejudices and "help demystify the feminine body," she says.
---