Does oil giant Chevron want Chavez to win reelection in Venezuela?
(Read article summary)
Chevron has been in Venezuela since the 1920s when politicians were heavier handed than Chavez. Now, Chevron in Venezuela may be too big to nationalize, writes a guest blogger.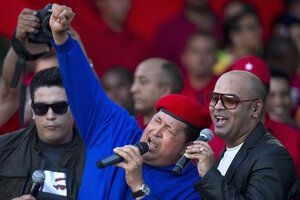 Carlos Garcia Rawlins/REUTERS
• A version of this post ran on the author's blog. The views expressed are the author's own.
A couple days ago, Raúl Gallegos published a decent little column about how Chevron is, if not betting on a Hugo Chávez reelection, at least setting itself up for a long, happy relationship with the Bolivarian Republic.
Chevron has no illusions about how Venezuela works. It first set up shop there in the 1920s, when strongmen showed heavier hands than Chavez. Scores of populist governments and two oil-industry nationalizations later Chevron is still pumping crude. And when PDVSA asked for a couple of billion to invest in Boscan, a jointly-run field Chevron first came across in the 1940s, the oil major obliged. The 13-year loan is costing PDVSA Libor plus 4.5 percent, far less than the 11 percent that its 2027 bonds pay.
I quibble with a bit of the column, but basically, he's right. Chevron in Venezuela is now too big to nationalize.
RELATED: How much do you know about Hugo Chavez? Take our quiz!
I had thought Repsol fell into the same category. But maybe not. Check out this article from last night.
Venezuela President Hugo Chavez warned Repsol SA (REP) to "think carefully" about taking action against Argentina after it nationalized its YPF SA (YPFD) unit, indicating the Spanish company may face ramifications in Venezuela.
---