Brazil is stamping out favela violence – now on to trash collection and education
(Read article summary)
Brazil's first impact study on its Police Pacification Units reveals that the program has significantly reduced violence, but still needs extensive reform.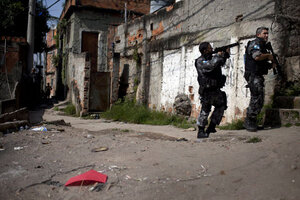 Felipe Dana/AP
• A version of this post ran on the author's blog, Riorealblog.com. The views expressed are the author's own.
Ever since pacification began in Rio de Janeiro, in November 2008, we've been hearing (and saying) that social needs must also be met. As the number of UPPs, or police pacification units, grow (now at 26, employing 5,000 men and women, with a goal of 40 by 2014), State Public Safety Secretary José Mariano Beltrame – and many others – repeat the mantra about the other side of the coin.
The Social UPP got off to a shaky start, with Governor Sérgio Cabral's political needs shoving it out of the state nest in December 2010, into the municipal one, under the aegis of the Pereira Passos Institute. From day one however, it's been run by Ricardo Henriques (who next week hands his post over to former municipal finance secretary Eduarda La Rocque, who is to keep on current director Tiago Borba) and a growing team, in partnership with the United Nations Habitat program.
Centuries of neglect and the mantra repetition have led to the general perception in Rio that police pacification is dangerously outpacing the city's ability to meet social needs.
---