Mexico takes on Brazil for Olympic soccer gold
(Read article summary)
If Mexico can defeat Brazil it will mean the country's first Olympic gold medal in soccer.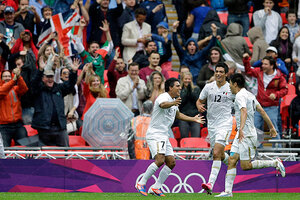 Victor R. Caivano/AP
Mexico's millions of soccer fans have gold on the brain.
The Mexican men's national team gets its first-ever chance at Olympic gold when it takes on Brazil tomorrow.
Mexico already made history by making it to the Olympic soccer final for the first time following a 3-1 win over Japan on Tuesday. And Brazil – a powerhouse in the soccer world – scored its way to two Olympic finals in Los Angeles in 1984 and Seoul in 1988 but settled for silver both times.
Mexico's Oribe Peralta, who scored the second goal against Japan, told Mexico's Milenio newspaper, "We can win against anyone and Brazil is not unbeatable."
That's true enough: Mexico has beat or tied Brazil every time the two teams have found themselves matched in a historic final, from the 1975 Pan-American Games, Gold Cups in 1996 and 2003, the Confederations Cup in 1999, and finally, in a win for Mexico over Brazil in the Sub-17 World Cup in Peru in 2005.
---