What if technology could undermine drug violence in Brazil?
(Read article summary)
A debate in Rio de Janeiro focuses on how access to information and technology among low-income youth might weaken the drug trade and empower young people in favelas.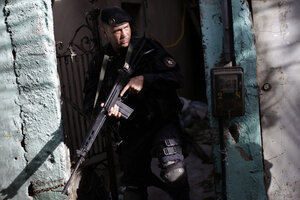 Felipe Dana/AP
• A version of this post ran on the author's blog, riorealblog.com. The views expressed are the author's own.
Al Jazeera and the Associated Press recently reported on drug dealers who've decided to stop selling crack in two large favelas of Rio de Janeiro. One of the many questions this unusual news brings up is the actual state of drug trafficking in Rio. The question is a central one, as we approach the mega-events [like the World Cup and Olympics], as the number of police pacification units mounts (up to 26 as of this week), and as journalists make statements such as:
Let's stop kidding ourselves: Rio will never be safe. The violence can only be contained, and only through random good fortune. I've seen it from both sides: with the cops in body armor and with the drug traffickers who control the favelas, blowing the life expectancy graph if they pass 20.
How solid is the business, really?
We often think of the drug trade as monolithic bad guys who are just there, who may fight among themselves, and change addresses with the arrival of a police pacification unit, but whose methods and overall grip are an urban constant. But, according to a former top police commander [Mario Sergio Duarte, cited by the AP], "dealers turned to crack when their other business started losing ground within the city".
---