Mexico stops the Taliban - 'El Taliban,' that is
(Read article summary)
Mexico arrested 'El Taliban,' one of its most wanted drug traffickers, on the same day that the country's president urged the UN to reassess narcotics prohibition.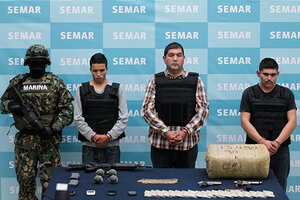 Edgard Garrido/Reuters
"El Taliban," the alias of one of Mexico's most wanted drug traffickers, was arrested in Mexico this week, paraded before the media today, and will be hailed as yet another coup for the Mexican and United States governments in their joint goal to weaken the power of drug trafficking networks.
But if the US and Mexico see eye-to-eye on their strategy to capture top druglords, they are increasingly at odds over other facets of the so-called "war on drugs."
The same day that "El Taliban" was captured, Mexican President Felipe Calderon spoke at the United Nations General Assembly, as did the presidents of Colombia and Guatemala, each questioning the American-sponsored status quo on global antinarcotics efforts.
"Today, I am proposing formally that [the UN]…carry out a far-reaching assessment of the progress and limits of the current prohibitionist approach to drugs," said Mexican President Felipe Calderon.
---