In landmark election, Venezuelan voters see two futures
(Read article summary)
Venezuelan voters, who are electing a president today, will either keep Hugo Chavez in power or give a chance to his challenger Henrique Capriles.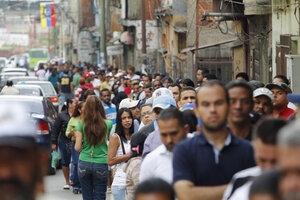 Tomas Bravo/Reuters
Venezuelans are casting ballots today in one of the most important elections of their lifetimes.
With their votes today, they will either keep their current president Hugo Chavez in power or elect the opposition candidate Henrique Capriles into office. Mr. Chavez has promised to forge forward with his "socialist revolution," while Mr.Capriles has cast himself as a moderate who will maintain social safety nets for the poor but put Venezuela's economy on more stable footing.
Surveys have varied wildly on who is poised to win today, but supporters of each side are convinced that they have the edge – and that their choice is the only viable option for Venezuela.
In the upscale neighborhood of Chacao, an opposition stronghold, voters lined up in the middle of the night to cast their ballots, despite the fact that polls didn't open until 6 a.m. this morning.
"We're here because we want change," says Arnaldo Palvera, an architecture student, who arrived at 5:15 a.m. to cast his ballot. He says he has no doubts about who will win today's race.
Neither does Juan Nieto, a clothes salesman, who arrived even earlier, at 4:15 a.m. "We're going to win."
It's the kind of confidence that the opposition has not exhibited since Chavez took office in 1999. For nearly 14 years Chavez has easily held onto power - until now. And many of his foes are taking as proof long lines and enthusiasm across Caracas as a sign that, this time, he really might lose.
Juan Carlos Mosqueda, a cab driver, says that transporting passengers west to east and back west again across the city today, he has never seen such long queues outside of polling stations. "In 14 years, this is the best chance we have for a new president, there are so many new voters," he says. "It's close, very, very close. It's now or never for change."
---