Rio's mayoral race: A new 'Al Gore' for Brazil?
(Read article summary)
Rio de Janeiro Mayor Eduardo Paes swept yesterday's municipal election. But some say his opponent could play a watchdog role as Rio prepares for the World Cup and Olympics.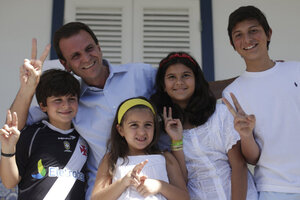 Ricardo Moraes/Reuters
• A version of this post ran on the author's blog, Riogringa.com. The views expressed are the author's own.
Rio Mayor Eduardo Paes swept yesterday's municipal election in Rio, winning with nearly 65 percent of the vote. In second place was Rio state assemblyman Marcelo Freixo, who won 28 percent of the vote. For those familiar with Rio politics, it wasn't a surprise: Mayor Paes is a popular incumbent who raised much more money than Mr. Freixo (around 14 times more), had a huge coalition (Freixo refused to create one), enjoyed much more TV advertising time than Freixo, and has support from the state governor, President Dilma Rousseff, and former president Lula.
Amid a construction boom with new government-funded hospitals and education centers, Paes also counts among his administration's accomplishments presiding over the preparations for the World Cup and Olympics. In addition, Paes won despite recent accusations of corruption – allegedly paying off another political party not to run for the mayoralty of Rio. Freixo also was at a disadvantage due to popular appeal; Paes is a seasoned politician, whereas Freixo – who comes from a background of academia and activism – is less accustomed to smooth-talking.
---