Pimples at the polls: Argentina tries to lower voting age to 16
(Read article summary)
If successful, President Kirchner would most likely benefit.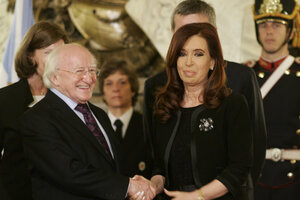 Martin Acosta/Reuters
Should the United States lower its voting age to 16 or 17? Argentina is the latest nation on track to do so.
The Senate of the South American nation voted this week to allow 16- and 17-year-olds to cast ballots at the polls, generating outcry from political opponents of President Cristina Fernandez de Kirchner, who is widely supported by a growing youth movement, which we reported about here. Critics say that, in appealing to youths, Ms. Kirchner is trying to bolster her party ahead of October 2013 legislative elections.
The president's supporters, however, say the goal is to strengthen democracy. "It is young people who create the counterculture, who can see reality from another point of view, and who question all of their society's ideas and prejudices," Elena Corregido, a ruling party senator and co-author of the bill, told the radio show "The World." "So we by no means think that they'll be pulled along like cattle to the market."
---