Latin American low-skilled labor flocks to Brazil's jobs
(Read article summary)
Brazil has become a magnet for high-skilled Europeans as well as low-skilled migrants from poorer neighboring countries like Peru and Bolivia who traditionally opted for the US or Europe in the past.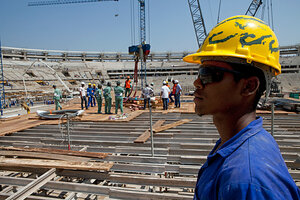 Melanie Stetson Freeman/The Christian Science Monitor/File
In the past 20 years, Jorge Ramos has migrated from the highlands of Ecuador to New York City, and Santiago, Chile. He has lived in Germany and the Netherlands, too – always selling traditional Andean hats and scarves. But last year, when it was time to head on the road again to support his wife and three children back home near Otavalo, Ecuador Mr. Ramos heard about a new destination from friends and family: Brazil.
Without Portuguese, and with only a budding community of Ecuadorians, unlike the vast networks that have laid down deep roots in New York City or Madrid, Mr. Ramos moved to Rio de Janeiro last year. On a recent Sunday he hawked his cotton, hot pink, blue, and yellow scarves and shawls to tourists and a growing Brazilian middle class meandering through the muggy 80-degree (F) temperatures in one of Rio's hillside bohemian neighborhoods – and people were buying.
"Since 2005, more and more Ecuadorians have been coming to Brazil," Ramos says, "all because of the economy." That includes his own family: Between siblings and cousins, seven of his family members now call Brazil home.
Low-skilled immigrants, mostly from Europe, flocked to Brazil in the late 19th and 20th centuries. But by the 1960s it stopped, as military dictatorship took over and drew up restrictive, protectionist immigration policies.
Since then, says Deisy Ventura, a professor of international relations at the University of Sao Paulo, "Brazil has not been one of the principal immigration destinations." Instead, waves of Brazilians headed out of the country, gaining footholds in places like the suburbs of Boston.
But now South American nations are eyeing their continent's largest country. "Brazil has to prepare itself to be once again a country of immigration," Ms. Ventura says.
---