Ahoy Argentina: Crew of boat seized by creditors in Ghana arrives home
(Read article summary)
The seizure of an Argentine boat off the coast of Ghana highlights the battle that continues between the southern cone nation and its creditors a decade after it defaulted on a $100 billion debt.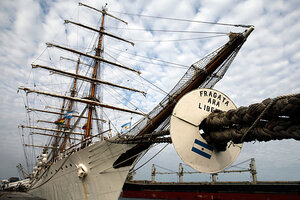 Gabriela Barnuevo/AP
One would have expected crew members of the Libertad, an Argentine ship impounded in Ghana for the past three weeks, to be delighted to return home following its government-ordered evacuation.
But after his arrival in Buenos Aires aboard a charter plane with 278 colleagues, Luis Suárez was anything but.
"The worst thing you can ask a sailor to do is abandon ship," he fumed Thursday, criticizing President Cristina Fernández de Kirchner.
The 320-foot long Libertad was seized in the Ghanaian port of Tema after NML Capital Ltd., a subsidiary of billionaire Paul Singer's New York-based Elliott Capital Management, filed an injunction.
The standoff underscores the battles that continue a decade after Argentina defaulted on $100 billion of debt and gave bondholders no option but to receive hugely reduced payouts.
The vessel is just one of 28 assets that have been seized from Argentina as "vulture funds" like NML pursue full payment.
Such funds – frequently berated by President Kirchner – buy up sovereign debt when governments are in chaos, and can make a lot of money off of it. In fact, some have done quite well.
But not NML, which has received nothing so far. It wants at least $20 million of the $300 million it says it is owed by Argentina before releasing the frigate.
But Kirchner won't negotiate. Her administration takes huge pride in its "politics of debt reduction" employed since 2003.
---