Venezuela prioritizes 'happiness' in its national budget
(Read article summary)
President Chávez's administration announced its budget last week, allocating nearly 40 percent of funds for 'supreme happiness.' The budget's ambiguous nature, however, has made some distinctly unhappy.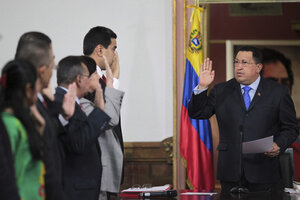 Miraflores Palace/Handout/REUTERS
Happiness is serious business in Venezuela.
At 38 percent of the current budget, spending on what the government refers to as "supreme happiness" has taken precedence over everything including military and energy spending for Hugo Chávez's fourth term as president.
It seems that Venezuela is just as wrapped up in attaining this elusive emotional state as the rest of the Western world, which dedicates billions of dollars to everything from self-help books to vitamin supplements to serious research on happiness. There have been a number of recent studies ranking countries by happiness level – with one called the Happy Planet Index placing Venezuela 9th in terms of happiness out of 151 countries. (Nearby Central America was ranked one of the happiest regions on earth.)
But Chavez's focus on national bliss hasn't necessarily made a lot of people "happy."
The new $92 billion budget, announced by Finance Minister Jorge Giordani last week, has drawn widespread criticism for its vague language and alarmingly low estimates of inflation and oil prices. Meanwhile, expenditure on "happiness" has increased since last year and continues to be the budgetary centerpiece.
But what brings about happiness in Venezuela?
"I understand [happiness] to be associated with social spending," says Francisco Ibarra, a director of the Venezuelan think tank Econométrica, on his interpretation of the government's definition.
---