Bad boys: Brazil slaps misbehaving soccer players with service, not just suspensions
(Read article summary)
In an attempt to make athletes better role models, Brazil has mandated that some offending players do community service and help kids in need.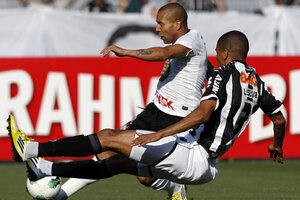 Paulo Whitaker/REUTERS
Fines and suspensions for athletes behaving badly? Well, yes. But in Brazil, they get community service too.
Officials here recently ordered three high-profile soccer players to visit sick kids or pay fines to charitable institutions rather than serve sideline bans for misconduct on the field of play.
The plan is part of a scheme to make errant role models take more responsibility.
"This type of visit is educational as well as being punitive," says Flavio Zveiter, head of the Superior Court of Sports Justice (STJD), the body that hands out suspensions.
"These guys are heroes to lots of people and this helps them reflect about their position and responsibility to society. They sometimes live in their own little world and they don't realize that what they do has repercussions in society as a whole."
Soccer is by far Brazil's most popular sport. As well as being home to players such as Pelé and Ronaldo, Brazil is the only team to win the World Cup five times. It will host the next tournament in 2014.
It also has one of the most competitive leagues in the world, and when players are kicked out of a game they are automatically banned from the next match. But additional suspensions are tacked on if the player is a repeat offender or if the offense is particularly grave.
---