Day of the Dead: Mexicans mourn loved ones
(Read article summary)
Families in Oaxaca remembered their lost loved ones last night in the traditional way.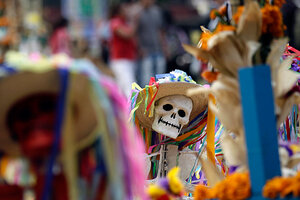 Henry Romero/Reuters
As soon as darkness fell, festive crowds streamed into the candle-lit cemeteries of this southern Mexican city and nearby towns by the thousands.
Day of the Dead falls on Nov. 2 but the celebrations in Oaxaca (pronounced Wah-ha-ca) begin days before with the creation of elaborate altars to the dead in homes. The offerings of flowers, fruit, bread, candles, and prayers rarely fail to include testaments to the more mundane aspects of the departed one's earthly existence: playing cards and other relics of their old life such as yarn for the grandmother who loved to knit or a favorite sombrero for a father who never took off his hat.
For many across the country, the pain of a loved one's death is fresh. More than 50,000 people have died in the six years since President Felipe Calderón deployed the military to fight the country's brutal drug cartels and criminal organizations.
However great the collective mourning may be in Mexico, families in Oaxaca reminisced last night about their own lost loved ones in the traditional way: with music, food, tears, and laughter.
A somber celebration turns festive
After alters are built, next come the visits to the cemeteries.
---