Biggest blow to Mexico drug cartels? It could be on your state ballot.
(Read article summary)
A Mexican study says legalizing marijuana for recreational use in the US - an issue on the ballot in three US states - could cut the proceeds of Mexican drug gangs by 30 percent.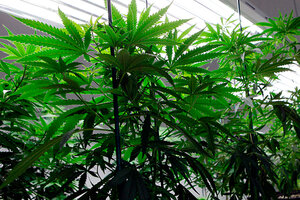 Ed Andrieski/AP/File
Over the past year, the world has eyed Latin America as it has forged forward, in both policy and politics, with a rethink of the "war on drugs." (See our recent cover story on "Latin America reinventing the war on drugs" here.)
But tomorrow, the world will be watching the United States, the birthplace of the "war on drugs," as three states vote on legalizing the recreational use of marijuana.
A "yes" for any state would have huge implications for the US, but the referendums would also have ramifications south of the border. A new study released by the think tank Mexican Competitiveness Institute (IMCO) shows that if the referendums do pass, proceeds for Mexican drug trafficking organizations could be cut by up to 30 percent, depending on which state goes forward with the referendum. (Read the report here in Spanish.)
"The possible legalization of marijuana at the state level in the US could provoke a considerable loss in proceeds of drug trafficking for Mexican criminal organizations," the report concludes. In fact, it says, ballot initiatives Tuesday could represent the biggest blow to Mexican criminal syndicates in decades.
IMCO assumes that better quality and cheaper marijuana – factoring in such things as transport savings – produced in the states of Washington, Oregon, or Colorado, where voters will have a chance to accept or reject new marijuana initiatives, would undercut demand for Mexican pot.
---