Chávez authorized to leave Venezuela for health treatment - Chavismo at risk?
(Read article summary)
Chávez's travel to Cuba could mean missing important gubernatorial elections in December, potentially benefiting the opposition.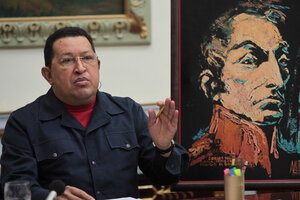 Miraflores Presidential Press Office/AP
• A version of this post ran on the author's blog. The views expressed are the author's own.
[Tuesday], in surprising fashion, the Venezuelan National Assembly authorized President Hugo Chávez to seek treatment for his ailments in Cuba, under Article 235 of the Venezuelan Constitution which says that any absence of more than five days from the country has to be approved by the Assembly. This is different than a temporal absence, in which the vice president replaces him. (Art. 234), which Chávez has refused to do ever since he started receiving treatment in Cuba for his mysterious ailment.
According to the letter sent by Chávez to the National Assembly, he will receive treatment in a hyperbaric chamber for "oxygenation," a treatment which according to the American Cancer Society is used for treating bone damage caused during radiation treatment [...]. Chávez has said that he has received chemotherapy, but has never formally acknowledged being treated with radiation, although there are rumors that this was the first type of treatment he received when the cancer was first discovered.
---