Top questions for Rio heading into 2013
(Read article summary)
The host of the 2014 World Cup and 2016 Summer Olympics faces many questions as it prepares for mega-events that are changing the way things are working in Rio de Janeiro.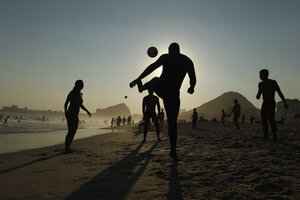 Pilar Olivares/Reuters
Rio de Janeiro has changed hugely in just the last four years. Thanks to economic growth, investment, and pacification (in the notoriously violent slums known as favelas), the city is more integrated and vibrant than perhaps it has ever been. Cariocas— what Rio inhabitants are known as — of all classes are freer than they were before to move around and try out a gamut of cultural experiences, to invest in their dreams, and forge new partnerships.
In 2010, Sérgio Cabral was reelected governor of Rio state and this year, Rio de Janeiro Mayor Eduardo Paes received his own overwhelming show of approval. Clearly most citizens of both Rio state and the capital city support the continuity, consolidation, and deepening of their urban policies.
As the overall context has improved (with exceptions and backtracking), hardworking, visionary, and creative cariocas have done much to contribute to the tricky process of urban integration.
---