Why Latin Americans top the happiness rankings
(Read article summary)
A global index on happiness shows several Latin American countries topping the list. The report cites centrality of family as a key reason.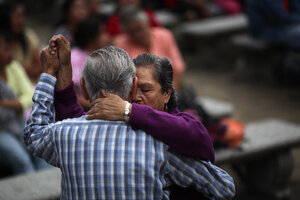 Rodrigo Abd/AP/File
This month an index of global happiness was released, and the results showed that many countries in Latin America were the world's happiest. Panama, Paraguay, El Salvador, Venezuela, Guatemala, Ecuador, and Costa Rica were all at the top of the survey. Colombia was ranked 11th, and Mexico and Brazil ranked around 20th.
Experts have suggested many reasons for the results. One includes the ability of Latin Americans to look beyond immediate problems and live life day-by-day, despite what is going on externally. It suggests that constant problems make people adapt and live positively, perhaps because it is difficult to constantly fear the worse and still live a productive life. Other explanations include cultural aspects that teach Latin Americans to keep a positive face on things, even if there are personal problems.
---