Propaganda and self-censorship in Venezuelan media
(Read article summary)
The media will play an important role in the lead-up to Venezuela's April 14 election, and the specific reach and polarization of TV channels contributes to uneven political terrain, writes WOLA.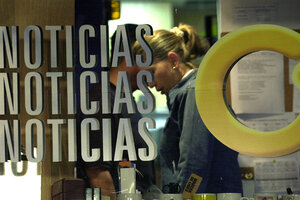 Leslie Mazoch/AP/File
• Carolina Acosta-Alzuru is a contributor to WOLA's blog: Venezuelan Politics and Human Rights. The views expressed are the author's own.
Venezuela will hold a presidential election in [less than] one month. Though the media are key actors in any political campaign, they are even more so in short campaigns such as the one leading up to April 14th. Analysis of Venezuela's media landscape usually hovers around two poles:
Communication and information rights "have been under fire during the Chávez Era" (Cañizález, 2009).
"The vast majority of Venezuela's media […] are constitutionally protected, uncensored, and dominated by the opposition" (Weisbrot & McChesney, 2007).
My comments here focus on television, a mass medium of tremendous importance in Venezuelan culture and everyday life. This is the television landscape in terms of average daily shares, i.e. the percentage of television sets in use tuned to each network or group of networks:
Venevision+Televen: 40-45 percent.
Cable: 30-35 percent.
State channels: 8-10 percent.
Globovisión: 4.5-6 percent.
Others (as defined by A.G.B.): 8-10 percent.
Oppositional network Gobovision's mere existence serves as the perfect example to counter those who criticize compromised speech and press freedoms in Venezuela. But given its small share, Globovisión is not nearly as damaging to the government as many would like to think, or as the government conveniently contends. Moreover, while Globovisión provides conversation pieces for antichavistas it does not reach many of those Venezuelans that the opposition would like to convince of an alternative to chavismo or now, "madurismo."
---